UNIT 143 NEWS
St. Louis Gateway to the West Regional
Aug 12-18, 2019
Hundreds of people from all over the United States attended the St. Louis Gateway to the West Regional and enjoyed great games and great hospitality!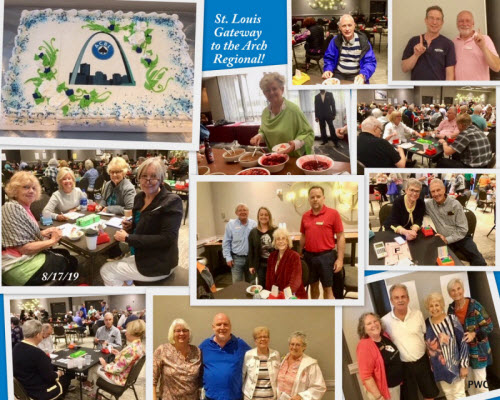 Click here for game results
St. Louis Fall Sectional Oct 19-21, 2018
St. Louis Regional Aug 13-19, 2018
Congratulations to all winners! Click here for photos.
St. Louis Spring Sectional May 18-20, 2018
Click here for photos for new life masters and event winners.
St. Louis Winter Sectional Jan 12-14, 2018

Click here for new life master and event MP winner photos
Congratulations to the following Unit members who made the
Barry Crane Top 500 for 2018!
Jack Bryant #206 with 697 MP
En Xie #207 with 694 MP
Ron Ashbacher #358 with 561 MP
Mark Boswell #416 with 535 MP
Rod Beery #442 with 523 MP